Task Capture - Editor
The Blueprint Task Preview is where you can view and optionally annotate the process before sending it to the Blueprint platform.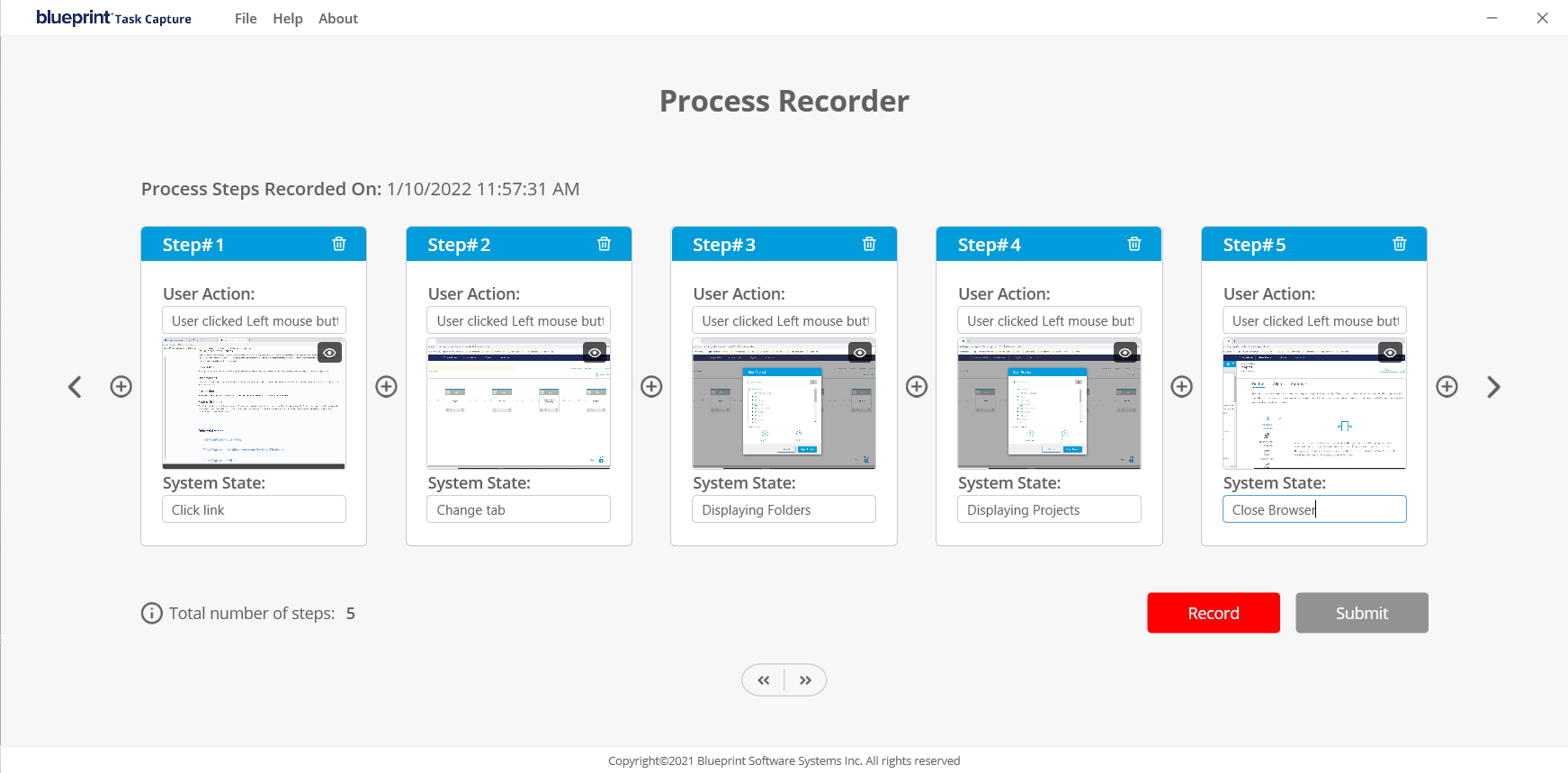 Displayed Information
Header: This is the name and ID of the process that was requested for recording, as received in the email invitation. (e.g. Calculate payments - PROS244789)
Process Steps Recorded On: This is the time of the last step in the recording.
Total Number of Steps: This is the number of steps in the recording.
NOTE: The Blueprint platform will apply machine-learning processing to make steps more understandable for non-technical users. This can result in fewer steps in the process that appears in Blueprint than appeared in the Task Capture Preview.
UI
Menu
File > Exit: Exits the application after a warning that your recording will be lost if you haven't sent it to Blueprint.
Help: Launches this help content.
About: Displays version number of the application and of the payload. The payload is another word for the recorded data. Given that the technical format of this recorded data might change in future versions, its important for the Blueprint platform to know which version of payload data it is receiving.
Editor Icons
Click the arrows on the left and right of the screen to move one action in either direction of the recording ()
Click the double arrows on the bottom to move one 5 steps at a time in either direction of the recording ()
Click the trash can icon to delete that step ()
Click the eye icon to hide that screenshot. Users may want to do this if the screenshot contains sensitive information, like usernames or passwords ()
Click the plus icon to add more recorded steps in that location ()
Images on each step can be clicked to enlarged
Recording Preview
The Preview shows all the recorded steps in a linear sequence that can be scrolled by single steps using the controls at the extreme ends, or by page using the left-right control at the bottom.
Each step is shown on its own panel in the sequence that it occurred. Each panel contains:
Step Number
User Action field: This was auto-populated by Task Capture. It could have been modified at time of recording in the recorder itself, or can also be modified here in the Preview. There is a 200 character limit for this field.
System State field: This field is intended for users to describe how the application has responded to the user action, as shown in the image. If the user adds this description, it will permit Blueprint to later auto-generate agile user stories and tests for the recorded process.
Record Button: Pressing the button will trigger a new recording.
Submit button: Pressing this button will send the recording to the Blueprint platform. The user will have an option to add a comment that will appear in Blueprint when the process is received.
---
---