How to use the RPA Integration Dashboard
This report lets admin users discover information about all RPA import/export jobs within selected filters. Admins will be able to see useful stats like who is importing/exporting, number of import/exports, complexity in terms or number of steps or includes, and most importantly the percent mapped to RPA destination tools on a per bot or aggregate metric.
Enter the Admin Portal by clicking the cog at the top right of the page

Choose RPA Management and then Integration Reporting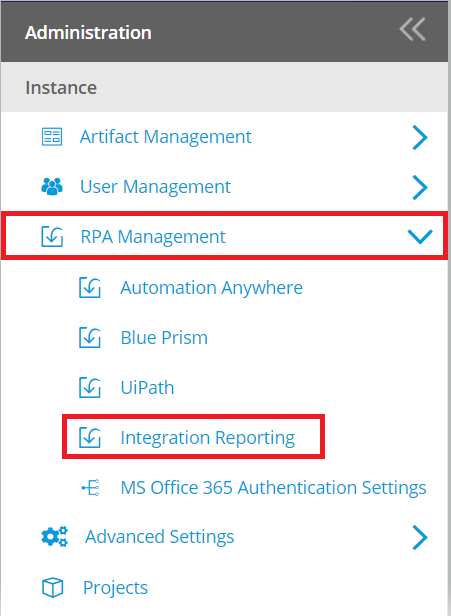 At the top, you can see two banners you can switch between. These banners are dynamic and reflect the information in the table based on selected filters.

Average Percent Data will show all successfully imported and exported DGBs, as well as percent mapped to PAD, UiPath and Blue Prism.

Percent Mapped is determined based on export, so imports will not have this mapping data

Average Per Bot Data displays averages of everything in the table below

By default, the report will show all import/export job metrics. However, you can apply filters to customize the report as much as you'd like. You can also limit the columns you would like to see at once.
Filters/Columns include:
| | |
| --- | --- |
| Item | Description |
| Process name | (Can be clicked to show a call tree with the contents of the job) |
| Job Type | Import/Export |
| RPA Platform | For Imports, shows where the RPA file came from. For exports, shows the RPA tool chosen as the destination |
| User | Who initiated the job |
| Duration | Length it took to complete the job |
| Job Status | If the job was Successful or Unsuccessful |
| Project Name | Source Project in Blueprint where the process was imported to / exported from |
| DGB's Included | Number of processes imported/exported |
| Variables | Number of declared variables within the process/job |
| Decision Branches | Count of all If's, If/Else's, and Else's |
| Actions | Count of all actions from source RPA tool |
| Total Elements | Count of all actions and variables operations/initializations from source RPA tool |
| Percent Mapped | Upon export we can determine how much was mapped to source RPA tool. This will only appear for export jobs |
| Includes | Number of sub-processes included in the job |
| Applications | Number of applications included in the processes (Can be clicked to show a list of all applications used) |
| Blueprint Version | Version number of Blueprint the job was initiated on |
Users can also export the report to excel. To do so choose Actions and then Export to Excel.

Current View exports the table as seen below.

For example: If filters are applied and user has limited the table to display to 25 rows per page, it will export an excel sheet with 25 rows of data

All Properties exports all data that exists in the instance
---
---