How to Use the Quality Dashboard
This dashboard provides valuable information about a set of Digital Blueprints.  
Choose Dashboards in the main header, then choose the Quality dashboard

Choose a project, a folder, or an individual process as the scope then hit the OK button. If you choose a project, all processes within this project will be analyzed and displayed. If you choose a folder, then all processes within that folder.  If you choose a process, then that process will be the only information in the dashboard.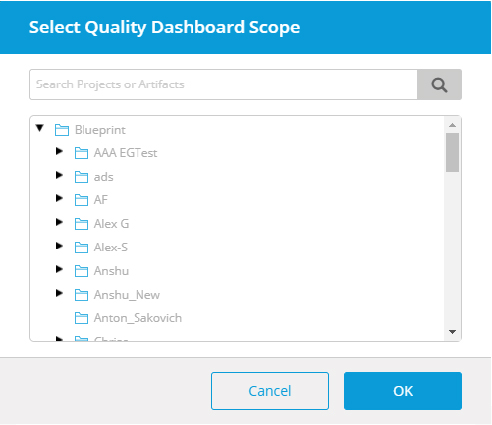 Actions available on the Quality Dashboard:

The following actions are available on the dashboard:

Change Scope: This launches the same dialog as when the dashboard was first launched, allowing you to select a different project, or folder, or process for analysis and display.

Refresh: There is a refresh button beside the "Change Scope" button that will retrieve the most current Digital Blueprint processes from the selected scope for analysis and display.
Hover on Graphics:  When you hover on the graphical elements you will see quantitative information for the element.

Search by name:  A type-ahead search bar allows you to quickly find a desired process by name.

Sort Column: Every column in the table has a sort option.  Each click on the sort control will reverse the sort order.
Information Displayed
| | |
| --- | --- |
| Element | Description |
| Quality | This categorizes the process into one of 10 quality groups ranging from 0 (very low quality) to 10 (very high quality). This score is derived from Size (weight: .51), Complexity (weight: .15), Trace Coverage (weight: .03), Comment Coverage (weight: .2), and Applications Coverage (weight: .11). |
| Steps | This is the number of steps the Digital Blueprint has. |
| Comment Steps | This is the number of steps specifically marked as Comments in the Digital Blueprint. These are created upon import if bots include commented items. |
| Mapped to COM | This indicates how much of the process is defined using Blueprint's Common Object Model, in other words the percentage of steps that have COM data defined. |
| Complexity | This is the Cyclomatic Complexity of the process.  Refer to Cyclomatic complexity - Wikipedia. |
| Decisions | This is the number of decisions within the Digital Blueprint, which can be (User) Choices or (System) Conditions. |
| Trace Coverage | This is the number of traces the Digital Blueprint has divided by the number of steps.  The traces can be either on the Digital Blueprint as a whole, or on any of its steps. |
| Includes | This is a count of the number of Includes the Digital Blueprint has.  Typical use of an include is to "call" another process. |
| Discussions | This is the number of comments in the Digital Blueprint.  The comments can be either on the Digital Blueprint as a whole, or on any of its steps. |
| Images | This indicates how many images were found in the process. |
---
---